1XBet Registration Process
Registration
Reading time 12 min
Publication - Jan 20, 2023
Changed - Oct 27, 2023
Games are often played under different conditions due to game length, weather, and other variables that can affect the outcome of a game. Online betting companies strive to accurately predict.
This article will guide you through the process of account creation on 1xBet in Nigeria. The bookmaker is an excellent choice in terms of balancing everything that a modern sportsbook should have to offer. Well-optimized applications, generous and creative promotions, outstanding care for customers: these are just a few of the amazing advantages you get to try if you decide to create an 1xBet account. Without any further teasing, let's jump directly into the subject.
Why You Should Join Nigerian 1xBet
Internationally acclaimed bookmaking company
More than fifteen years of experience in the industry
Three costless applications for customers: Android, Desktop, and iOS
Competitive and fair odds for each event present on the platform
One of the most generous bookies in terms of promotions and incentives
Adequate and fairly rapid support service for clients
How to Register With 1xBet
Now, let's break down the most efficient way to set up an account on 1xBet NG. In the following sections, we will cover the registration procedure on the website and app.
Signing up on the Website
The entire procedure will take no more than a couple of mins, if you do just as follows:
Head to the 1xBet website.
Locate the greenish button with the "REGISTRATION" sign.
Hit it.
Pick the most comfortable sign-up option from the suggested ones: by telephone number, by e-mail, and by social media accounts and messengers.
Based on what you've opted for, fill out the designated fields with the required data.
Verify your telephone number or email, depending on what you've picked.
Press "REGISTER" to get started!
Signing up on the App
Get the app on your smartphone.
Locate the button with the "REGISTRATION" sign on screen.
Tap on it.
Pick the most comfortable sign-up option from the suggested ones.
Based on what you've opted for, fill out the designated fields with the required data.
Verify your telephone number or email, depending on what you've picked.
Press "REGISTER" to get started!
As you can see, creating an account with 1xBet is a pure joy considering how intuitive and clear each of the steps is.
Registration Options
1xBet deeply respects its customers by establishing three different ways to sign up for an account. Contrary to other bookmakers, where you have to work with what you have, you can pick the most convenient option at any given time.
Phone Number
This option requires you to share your telephone number with 1xBet and confirm it by entering a digital code delivered to you via SMS. Don't forget to specify Naira as the currency of use and insert a promotional code if you have one.
Social Media Profiles
Signing up with a social network appears to be one of the most advanced features in the industry, since there are only a few companies that are actually providing such an option, and 1xBet is among them. You can select any of the below-mentioned social media platforms and establish an account with a click:
Telegram
Google
Facebook
VK
In the long run, you will be able to access the website with just a click of the mouse by logging in with your social media profile or by entering your username and password.
Email
The last option offered for signing up is through your email. Basically, the process pretty much repeats creating an account with a telephone with the only difference being the number of fields with information.
One-Click
Some online reviews suggest that you can sign up with the "One-Click" feature. However, if you're on the official Nigerian website of 1xBet, you won't have such an option. Always use 1xbet.ng rather than other domains such as international 1xbet.com.
Registration Requirements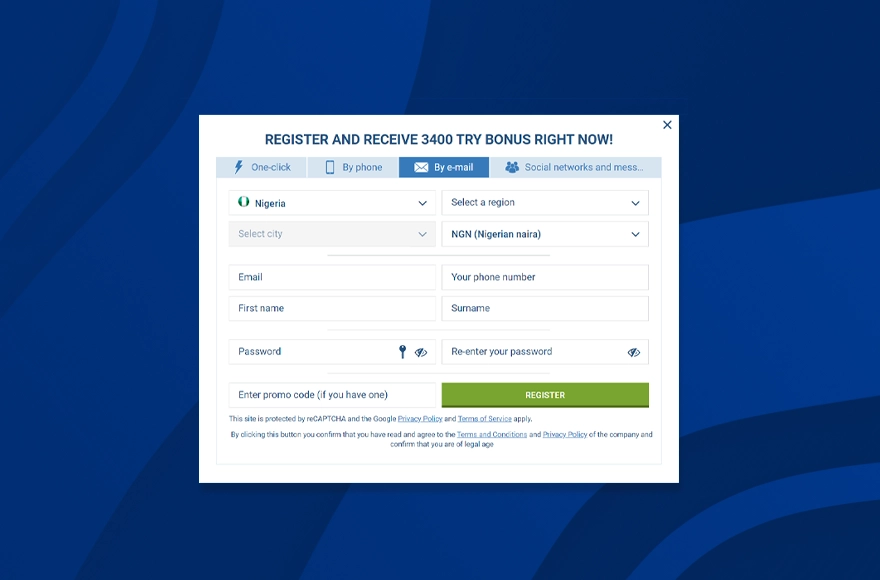 Although 1xBet Nigeria warmly welcomes every single newcomer, it has stated some requirements that you should keep in mind before signing up. We won't mention the most obvious ones, like having a device and access to the Internet. Let's examine the real ones, which have a great deal of importance.
18+
As a reputable bookmaker, 1xBet entirely supports the responsible gaming policy, which requires all its punters to be of legal age. Minors cannot participate in any form of gambling, not only according to Nigerian laws but also according to common sense of 1xBet. If an underage person is noticed wagering on the website, his or her account will be permanently suspended without the ability to recover it.
Nigerian Phone Number
If you'd like to become a part of the 1xBet Nigeria gambling community, you should possess a Nigerian telephone number. Even if you create an account using email or social media, you will be asked sooner or later to specify the number. If you don't have it, consider getting one before joining the platform.
Rules and Terms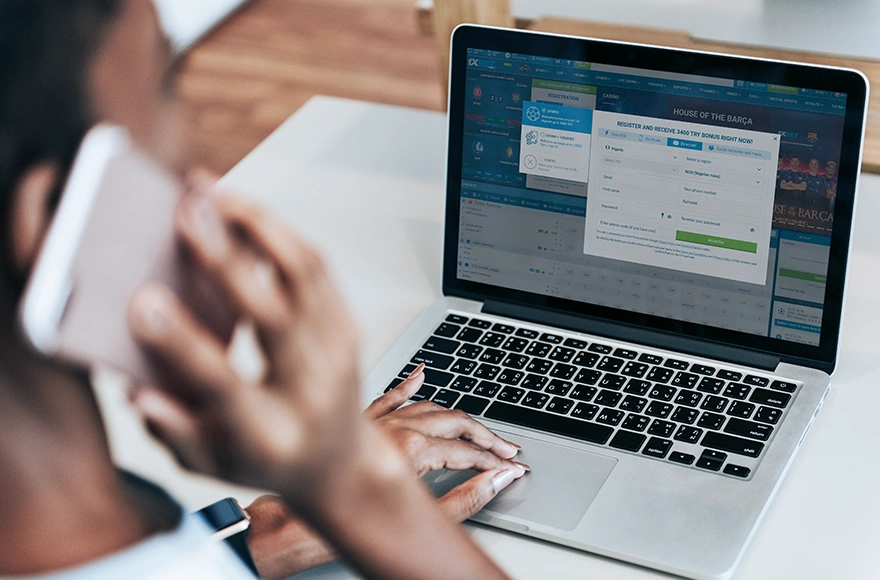 In this article, we've primarily focused on the issues surrounding registration. However, the bookmaker has an extensive list of rules, which should be respected while wagering on sports and enjoying casinos on 1xBet Nigeria. We highly recommend you check the T&C section, which can be easily accessed through the website's footer.
Is It Legal to Register With 1xBet in Nigeria?
Yep, this is absolutely legal. The company has a locally issued license to provide gambling services in Nigeria.
How to Fill out Your Personal Profile
Most of the required information will be filled out while creating a profile. However, if something changes or you simply want to add more, you can always do so in the account settings.
How to Create 1xBet Password
If you'd like to create a secure password for this service, we advise you to utilize online web sources for generating complex passwords that contain capital letters and special signs.
1xBet Verification Nigeria
This procedure should be done while registering on the platform. You are required to prove that the specified telephone number and email address belong to you.
How to Receive Welcome Bonuses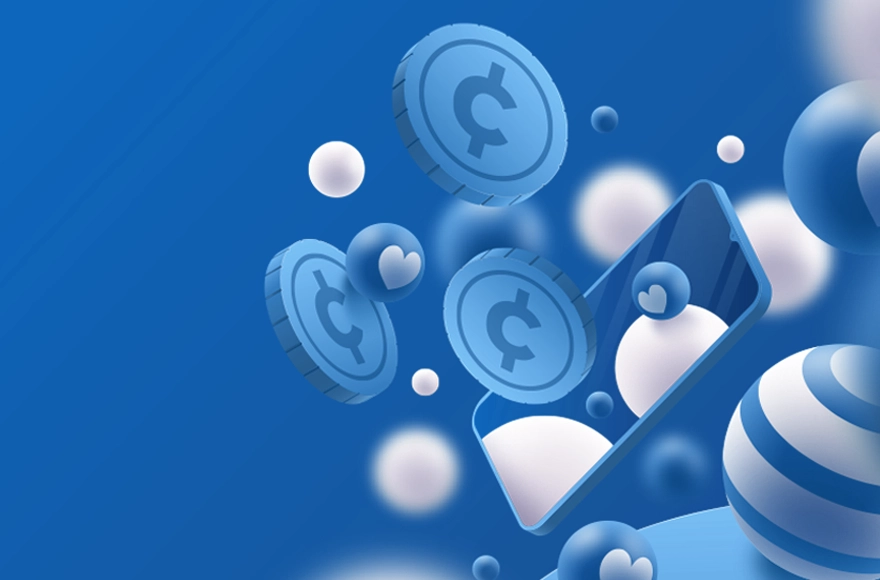 Upon your first registration on 1xBet, you're more than welcome to opt for one welcome bonus. You read it right. You can choose between two welcome bonuses. The first one applies to sports wagering, and the second one offers 1xGames bonus. Unfortunately, you can't take them both at the same time, but you can rest assured that even one bonus and its generous size will satisfy you more than most of the bonuses offered by other bookies in the region. So, here are the steps:
Establish an account.
Ensure it's entirely verified.
Select the bonus you'd like to receive.
Top up your account for the very first time.
Enjoy your bonus on 1xBet!
Main Bonuses
Lucky Friday
VIP Cashback
Lucky Day
Acca of The Day
Birthday Gift
How to Access 1xBet
Once you've created an account, you can effortlessly access the website and start wagering right away. Let's take a look at how you should log in to 1xBet:
Head to the Nigerian version of 1xBet.
Locate the bluish "LOG IN" button in the header.
Insert your credentials.
Hit the green "LOG IN" button.
Alternatively, you can sign in with the help of your social media accounts. Keep in mind that these accounts should be directly associated with your 1xBet NG account.
How to Top up 1xBet Account
The company has more than enough options to make secure payments, so you'll definitely find something that is convenient for you. If you'd like to learn more about topping up your account and how to take your winnings out, please refer to our article about "1xBet Payment Methods."
Potential Troubles While Registering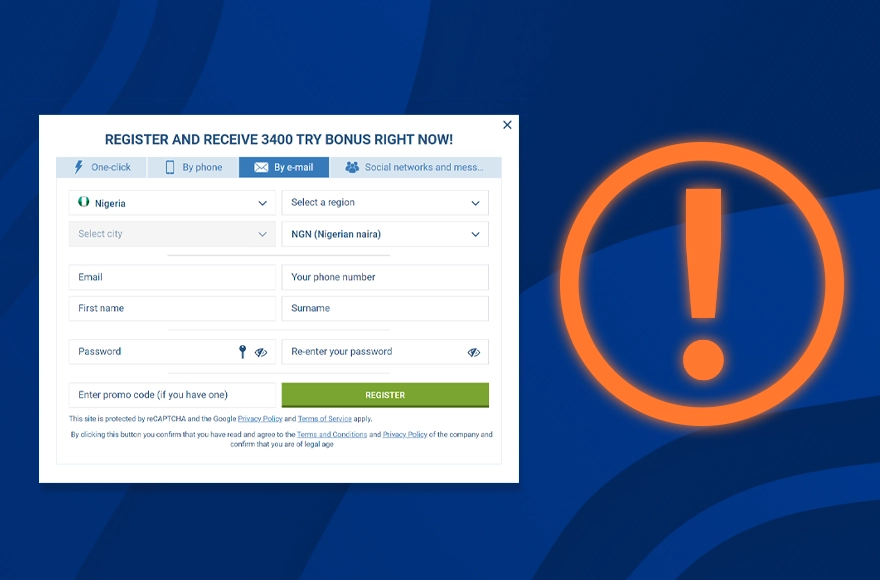 Although 1xBet did its best to design and code one of the most outstanding gambling platforms in the world, you might experience some issues while registering. Stress aside. We've compiled solutions to the most common problems in the sections below.
Wrong Phone Number
The majority of problems arise when you register but do not receive a confirmation code. Always check that the entered telephone number is correct and belongs to you.
Phone Number Is Already Used
Such an error can be displayed while creating an account. Troubleshooting it won't be much of a deal. Firstly, ensure the number is right. Secondly, if your telephone number has been used for registration without your permission, contact the support staff. They will be glad to help you out.
Email Is Already Used
The same issue as above can occur with email. In the event you see such a notification, you should directly reach out to the 1xBet specialists in any convenient way.
What's Next After Registering
Now, let's discuss some current questions about what can be done with an account after the registration procedure. It's not about wagering or making payments, but rather about some specific issue-related topics.
What to Do if an Account Suspended
1xBet quite rarely restricts your access to the account without having a specific reason to do so. The most efficient way is to address this issue directly to the 1xBet staff. However, if you have intentionally broken the rules of the bookmaker, their answer will be more informative than one that solves your issue.
How to Recover an Account
The only way to recover access to your account is through the "Forgot your password" function, which can be easily found after tapping on the blue "LOG IN" option. If this doesn't help, there's no other option but to search for assistance from the 1xBet support team.
How to Change Telephone Number
In accordance with the current rules, you're not allowed to change the verified telephone number associated with your main account. However, if you've got a new number that you're ready to verify once again, contact the staff for further assistance in this regard.
Customer Service
info-en@1xbet-team.com
08000077777
Conclusion
We've covered all the issues and potential doubts around creating and managing an account with 1xBet in Nigeria and, hopefully, answered all your questions. If you'd like to learn more about what 1xBet is all about, check out our comprehensive review of the bookmaker.
FAQ
How to get confirmation code for 1xBet?
Tap on the "Send SMS" button while registering.
How to delete/deactivate 1xBet account?
In case you'd like to entirely delete your account, please contact 1xBet staff.
How do I find my 1xBet user ID?
The user ID can be found in the account settings.
How do I reset my 1xBet account?
The "Forgot your password" feature, which can be easily discovered after tapping on the blue "LOG IN" option, is the sole way to regain access to your profile.
Which promo code can I use to register 1xBet?
You don't really need it. All newcomers will be granted a welcome bonus without any additional promo codes.
What is the best way to register on 1xBet?
We highly suggest you try the social media feature if you have Telegram or Google accounts.