Bet9ja App Download and Installation
Articles /
Bet9ja App Download and Installation
Table of Content
It is only natural for a gambling platform as big as Bet9ja to have a designated sports betting application. Moreover, the platform boasts two of them, one dedicated to sports wagering and the other for casino gaming. In this article, we will talk about both of them in detail, touching upon every feature, all the pros and cons of them, and more. All to give you a final rating of whether you should get it or not.
If you, however, are looking for the Bet9ja overview, then you may find it here.
❗Unfortunately, at the moment, you can't use the Bet9ja apps as they are no longer available. You can still use the mobile version of the site, though!
Main Features
Let us talk first about the main features of the platform before discussing those of mobile applications. One of the most beloved features of Bet9ja is its abundance of promotions and bonuses. The offers are truly something: a generous welcome bonus, an odds multiplier, and more. They are all quite lucrative and allow a greater user experience compared to their competitors.
Another interesting feature is live betting, which basically allows for bet placement on the ongoing games. For some of them, a live stream is also available, but this occasion is quite rare due to the complications with the broadcasting rights.
Lastly, let us touch upon the Cash Out feature. It is a special kind of promo that allows you to withdraw a fraction of your potential earnings from a bet before the bet itself has been resolved. It even works if the bet is lost, which may offer some emotional relief for bettors.
Features of the Sports Betting Mobile App
When it comes to the features of the application, there are quite a few things to say about them. The list of features is surely long, and it will be best if we cover each and every one of them separately.
Virtuals
With the advent of technology, a new type of betting opportunity has arisen. Virtual sports, also known simply as "virtuals," provide punters with a never-ending stream of simulated matches between teams that would have never faced each other in the real world.
All Sport Events at Your Disposal
With the Bet9ja sportsbook app, you will be able to place wagers on each and every event featured on the platform from anywhere at any time.
Smooth Betting Experience
The app provides its customers with a silky-smooth sports wagering experience. No bugs, glitches, or any other inconveniences. It is a rare case of incredible quality, unrivaled by most other Nigerian sports betting applications.
Compatible Gadgets
The app is compatible with every device operating on Android 5 or higher, including mobile phones, tablets, and others. It might even be downloaded to your personal computer with the help of applications such as BlueStacks or similar.
How to Load and Setup the App?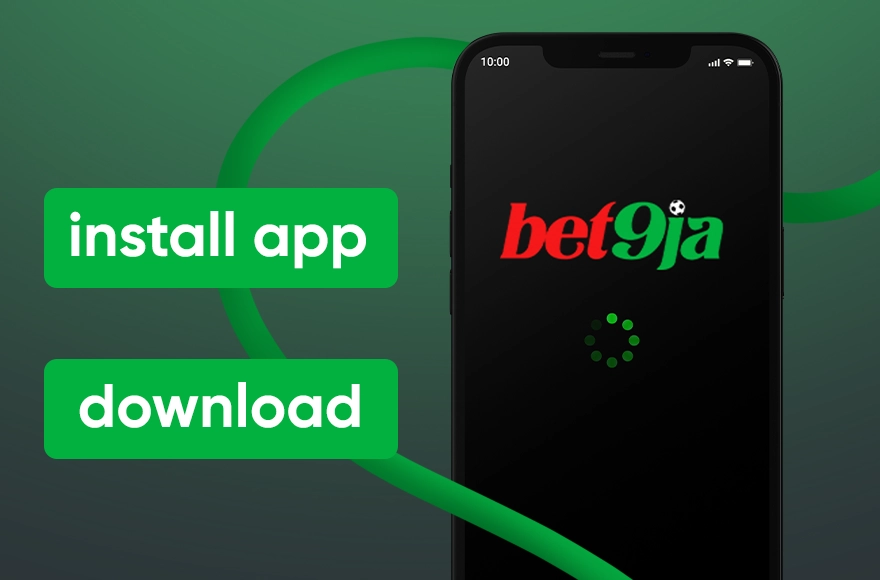 The process of downloading and installing the application is as easy as it can be. Let's take a look at how you can do it on various devices separately.
For Android
For Android users, getting an application is, honestly speaking, a piece of cake. We will guide you through each and every step of the process, just in case, and to make sure that everything is right.
Requirements
The application requires your device to operate on Android 5.0 or any higher version, as well as having 24 megabytes of storage available.
How to Download and Install the App: A Step-by-Step Guide
Now, let us guide you through the processes of download and installation one step at the time:
First, you should open up the Bet9ja web page and scroll all the way down.
There you will find the "Apps" section, tap on it.
A new tab will appear, in it you will find two buttons, one starts the casino download process, the other does so for the sportsbook.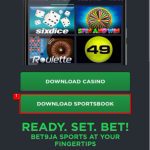 Hit one of the buttons and the downloading will begin.
When it ends, you will need to install the application, we will talk about that next.
To install the app:
A pop-up window will appear, warning you that the file might be potentially harmful. Don't worry about this notification and tap "Download anyway."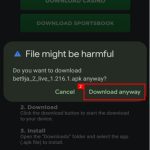 Then, you should confirm your intention to install the Bet9ja app. Click on "Install."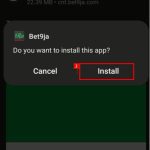 The installation will begin, and after it is done, you will be able to open it by hitting the corresponding button.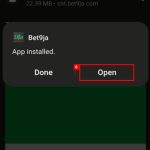 For iOS
Sadly, there is currently no application available for iOS operating devices. We do hope, however, that it will change in the nearest possible future.
For PC
There is currently no version of the app for personal computers available, as there is for iOS. It's not such a big deal because you can always use the website. If you really want to use an application on your desktop computer or laptop, then you might want to download the BlueStacks emulator for PC and use it. It is, however, not the best option.
Benefits of the App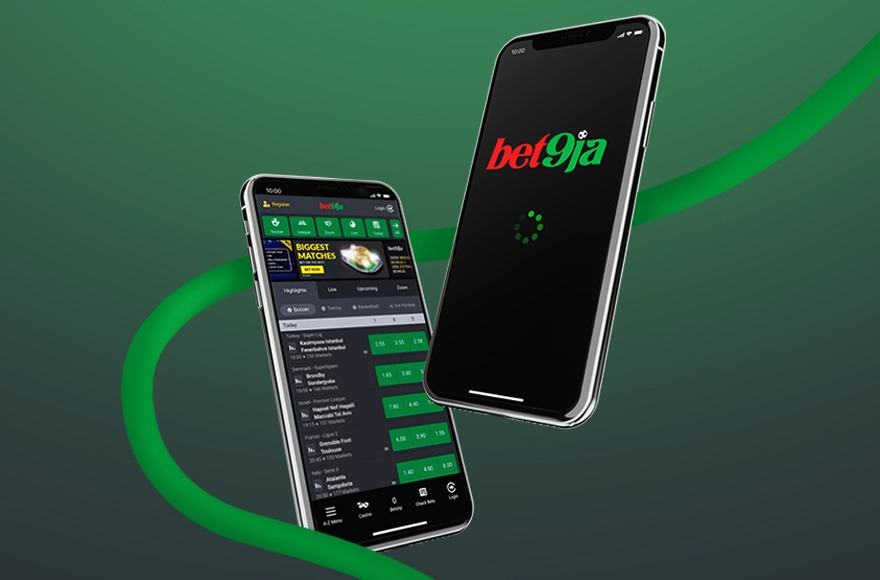 Compared to the web version, the app presents a more focused and concentrated sports betting or casino experience, due to the fact that it divides the activities into their own separate sections. Another notable upside of the app is, as we have previously stated, its optimization. It runs way better than the web page ever could, which actually makes a noticeable difference.
Old Version of the Application
The old Bet9ja app was beloved by many. So much so that some people are still looking for ways to download it even today, and although you can't do that, the new version of the app has all of the things that were present in the old one and even more. The design and optimization of the new application are leagues ahead of its predecessor, which is, in our opinion, an improvement so massive that it completely overshadows the old app.
The Differences of the App and the Mobile Site
There are plenty of differences between the downloadable application and the mobile version of the website. The most notable is that there is no clear distinction between sports wagering and online casino gambling on the site, and you are free to do both. The apps, on the other hand, separate those activities. Another difference is the amount of information available. There are detailed FAQ and About sections on the website, while both of the apps lack such things.
Desktop Comparison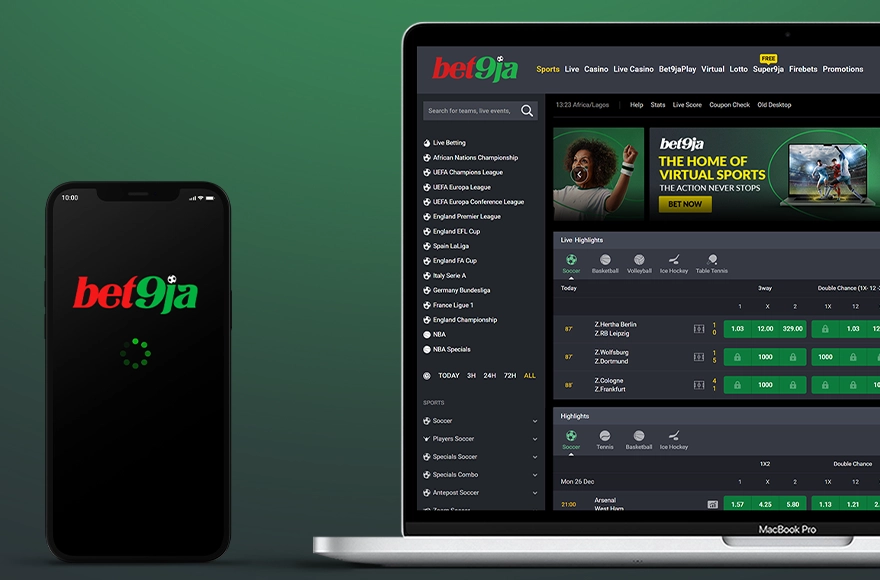 Since the mobile version of the site is virtually identical to the desktop one, although being a bit more optimized, everything said above holds true in this comparison as well.
Other Be9ja Applications and How Not to Get Scammed
As we have stated previously, apart from its sports betting mobile application, Bet9ja also has a dedicated casino app. There are also quite a few impersonators and pieces of malware going around, which we think we should touch upon to prevent you from getting scammed.
Casino App
This is an official application that allows you to play your favorite casino games on your mobile device. It is absolutely safe, and if you are someone who enjoys Bet9ja's online casino, then this app will surely interest you. You may download it from the official webpage, the same as the sportsbook app. The download and installation processes are also identical.
Naira Adder App
This "hack" has been circulating on the online forums for quite some time now, promising punters a way to cheat the system and get free money from Bet9ja. This is a scam, and you should avoid it at all costs. Not only will it steal your personal data, but it will also try to get everything from your bank account.
Virtual Apk
It is another scam app in the form of a game. Avoid it in general; in other cases, the consequences will be the same as with the Naira Adder.
Zoom App
There are lots of web pages describing how great the Zoom App is. However, we didn't find any trace of such an app. Moreover, even if we found it, there would be no reason to try it out because it's an unofficial application from an unknown source. Avoid it at all costs, and if you'd like to play Bet9ja Zoom Soccer, which is an actual virtual game on the platform, you should visit the main website.
Other Copycats
There are a multitude of other apps that will try to make you believe they are the real deal. Do not trust them. Official Bet9ja applications are only available to download from Bet9ja's official webpage. Any other download offer is a scam.
Bonuses in the Mobile App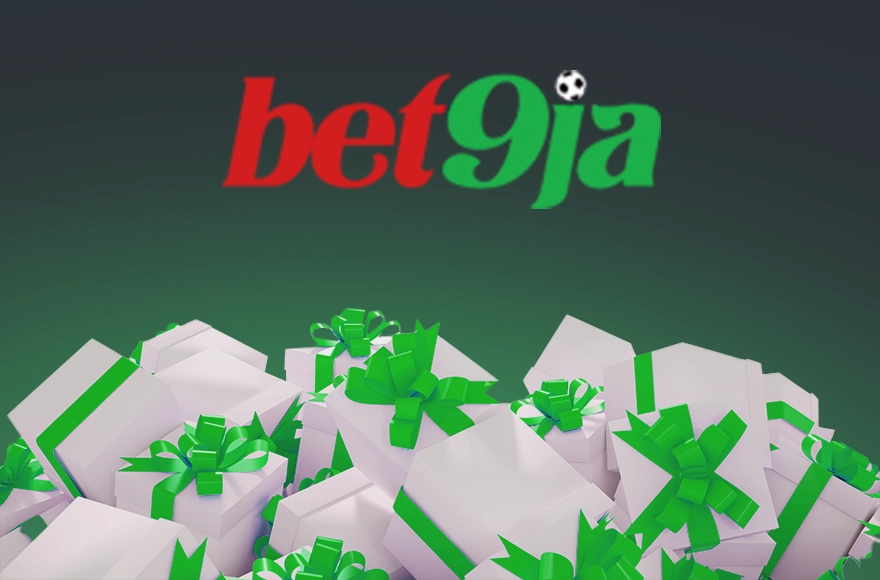 Each and every single one of the bonuses applicable to the website is alsoapplicable on the app. Be it a welcome bonus or a cash out, they are all still fully functional with the application. This is true for both the sports betting and casino apps; although they have slightly different welcome bonuses, you can still claim both of them within their respective applications.
Mobile App Account Management
One of the greatest things about the Bet9ja app is the fact that you are fully capable of managing your account through the app, including deposits and withdrawals of funds. Moreover, everything is done in a way that is not too dissimilar from what you would have done on the website. Payment methods also stay the same. Let's take a look at them.
Deposit Methods
There are aplethora of ways in which you are able to make a deposit, including: ATM machines, bank transfers, online banking services, QR codes, and even prepaid vouchers.
Withdrawal Methods
Sadly, withdrawal methods are not as diverse as the deposit ones. You can only withdraw funds directly into your bank account.
App Ups and Downs
Let's conclude this piece with a list of all the positives and negatives about the app.
Ups
Downs

Full specter of functions

Not available for desktop
In Conclusion
Overall, the Bet9ja app is a very good product that will come to the liking of many. It is light, well designed, and very focused. It is also fairly minimalistic, but in a good way. There is no reason not to recommend it, so we will do exactly that—go get it and try it out for yourself.
As for the ratings, we give the Bet9ja app a 7 out of 10. A decent score for the almost perfect gambling app.
FAQ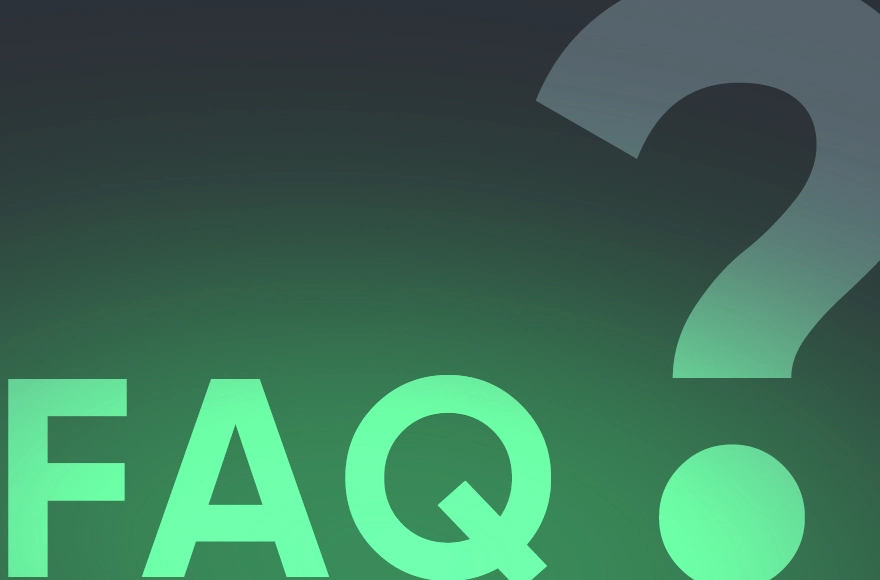 How do I register on the Bet9ja app?
In order to create a Bet9ja account, you must go through the registration process which we have outlined in our separate article.
How do I log into my Bet9ja account?
In order to learn how to login to a Bet9ja account, please refer to our separate article on the topic.
To learn how to bet on Bet9ja online look no further than our piece exactly about that.
How to play Bet9ja live casino in app?
In order to play at the Bet9ja live casino, simply open the casino app and find the "Live" section inside it.
To learn how to deposit money in Bet9ja account, simply refer to our review article, it contains all the information on the topic.
Swiftly, efficiently, and legally.
Which app is the real deal?
The one that you get from the official webpage.
New or old – which app to use?
Well, you can't really use the old one, so the answer is pretty clear.
What currencies are available on the Bet9ja?
Nigerian Naira.
Yes, they are!
How do I log into an old mobile site?
Unfortunately, you can't.