Bet9ja Registration Process
Table of Content
Being the third-largest website in the whole of Nigeria, Bet9ja is definitely a household name among the people. Many among them would like to know how to sign up with this platform. Well, if you're one of them, then you're in the right place. Today we'll examine the registration on Bet9ja from every angle there is and tell you exactly how to do that.
And if you'd like to know more about other aspects of the platform, then we have a more detailed Bet9ja booking review just for you.
Why Sign up With Them?
Well, you see, there are a lot of benefits you get when you sign up. First of all, by signing up with the platform, you will gain access to the world of sports betting at its finest. A plethora of sports, events, and matches will be available to bet on with odds unrivaled in the gambling industry. You will also gain access to the casino, which has a multitude of slot machines, table games, and live games. And of course, by signing up, you will be eligible for a welcome bonus of 100% on your first deposit of up to 100.000 Naira as well as an additional casino bonus of up to 50.000 Naira.
How to Sign Up With Bet9ja
There are several ways in which you may sign up on the website. We will talk about each one of them separately so that you will have a detailed guide for any one of them, no matter which one you choose.
Registrations Options
There are three main ways in which you can sign up. They are: through the telephone number; through the mobile application; and finally, through the desktop computer.
Signing Up via Mobile Web
First, there is the mobile web registration:
Start up to the Bet9ja webpage.
Find and press the "Register" button.
Provide your telephone number.
Proceed to fill up all the forms.
Confirm the registration.
Done!
Signing Up via Mobile Application
❗Yikes… Bet9ja applications are no longer available for Nigerian punters. But don't rush to pack your bags! You can still use the mobile version of the website.
To sign up through the application, simply do the following:
Launch the Bet9ja application on your gadget.
Tap on the big "Register" button.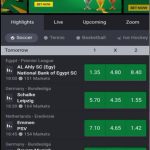 Type in your email and press "Register" once again.
Check your email for an activation link, open it.
Fill up all the necessary fields.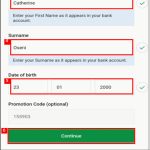 Confirm and done!
Signing Up via Desktop
Desktop registration is almost identical to the mobile web one, however there are some nuances.
Get to the Bet9ja webpage, and locate the "Register" button, then press it.
Provide your telephone number, email and tap on "Register."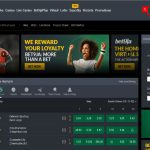 Proceed to fill up all the forms.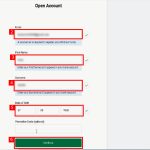 Confirm the registration.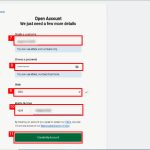 Done!
Sign Up Requirements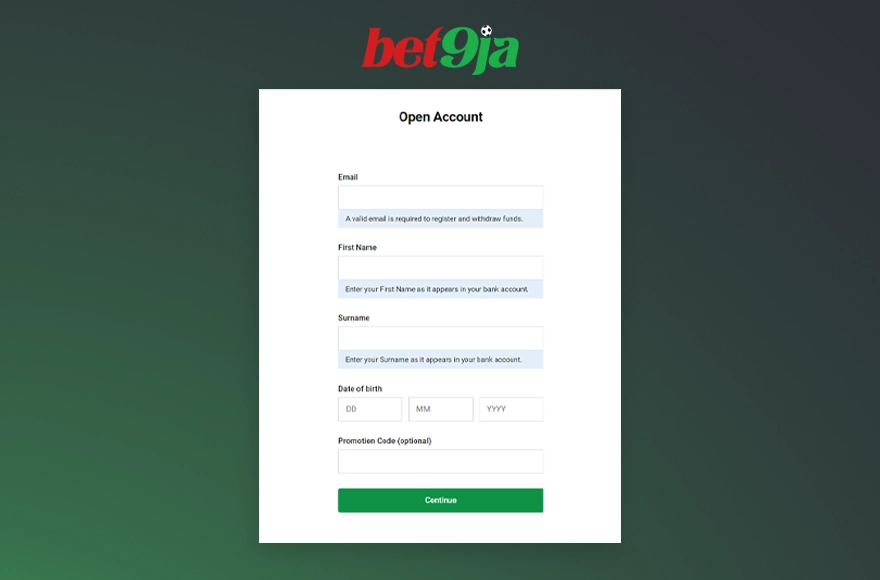 There are several requirements for a person to sign up with the platform, which means that you will have to provide the platform with some of your personal data. Don't worry though, since the platform is officially licensed and operates under the jurisdiction of the Nigerian authorities, it is quite safe and secure and your private data will be tightly protected.
Age Requirement
First of all, in accordance with the Nigerian law, in order to sign up on the platform a person must be of 18 years of age or older. This is pretty self explanatory.
Registered Nigerian Phone Number
Secondly, a person must provide his real phone number. It is done so that you may receive a confirmation message for your registration.
Legal Name
And finally, the last thing you'll have to provide is your legal name, which is the name as it is written on your ID.
After that, you only need to agree to T&C, about which we will talk next.
Terms and Conditions
For you to start playing on the website, you'll have to agree to the terms as well as conditions of the platform, which are listed as "General T&C" in the designated tab within the "About Us" section of the webpage. Be careful before agreeing to it, though. Read it mindfully beforehand.
Is Bet9ja Legal in Nigeria?
Well yes, it is. As have been stated above, the platform is officially licensed and sanctioned by the Nigerian Committee of Lotteries and Games, thus placing it directly under the Nigerian jurisdiction.
How Do I Fill Up the Profile?
Signing up with the platform also requires you to fill up the registration form. It is fairly short and consists of things such as:
Email
Full legal name
Date of Birth
State
Telephone number
Then, when all of the above has been presented, you'll have to make up a username and a password with which you will then log onto the platform.
Welcome Bonus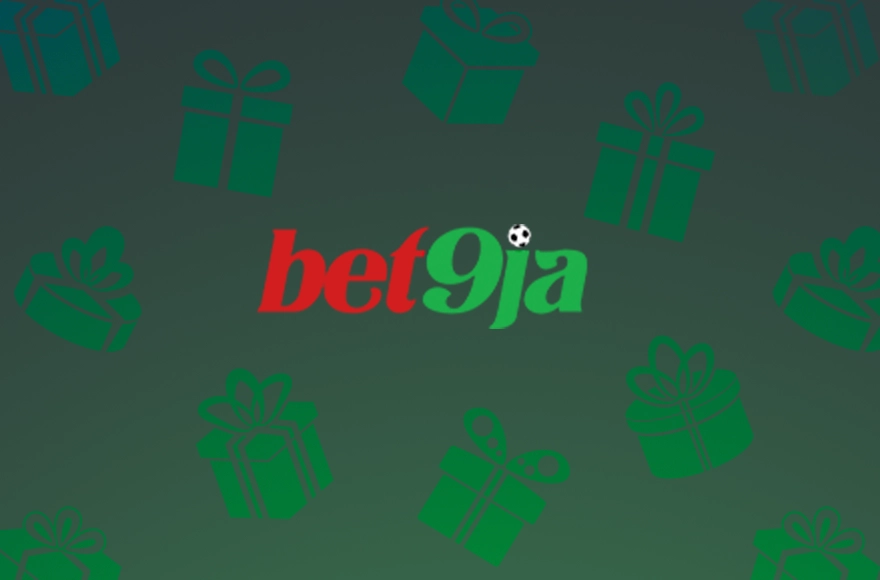 The platform provides each and every new customer with a welcome bonusof 100% of the sum of their first deposit up to 100.000 Naira as well as an additional 50.000 Naira for the casino. To get it, you will only have to sign up with the platform and make a deposit, and then the bonus will automatically be awarded to your profile.
Bonuses and Promos
The platform boasts a wide array of available promos and bonuses, such as odds multipliers, cash outs, and many more! One of the most notable ones is Cut 1. It is a promotion available for accumulator bets with which, even if one prediction is wrong, you still win.
Possible Registration Mishaps
There are a number of problems you may encounter during the registration process. Let us talk about each one of them and what you need to do to resolve an issue.
Incorrect Telephone Number
One of the most common problems encountered is an incorrect telephone number. If you have this issue, simply check carefully whether the phone number you have provided is correct.
Players Age
No matter how hard you try, you will not be able to sign up if you are not 18. If you are and still have encountered this issue, check whether you have correctly filled in your date of birth.
Failing to Confirm the Registration
In order to finalize the registration you will have to confirm it with the code provided to you by SMS. Sometimes, however, the message just does not come, in this case, simply try to request it once again. If it still has not, contact the customer care specialists and they will see to that.
I'm Registered: What Now?
After you have successfully signed up on the website, you should make your first deposit and proceed to betting. On the platform, you will find a plethora of sports, events, and games on which to bet, and if it is not your cup of tea and you prefer the casino more, then you will find them here in plenty. Slot machines, table games, and live games are all available on Bet9ja. And there you have it: an incredible sports betting and casino platform at your full disposal.
You may also check out the awesome betting application made by the platform. If you are interested and would like to learn how to download Bet9ja application, then check out our separate piece on that.
How to Login
Logging into your profile is quite easy. There are only a few steps you should follow. They are:
Get to the Bet9ja webpage and look for the "Login" button.
A pop-up window will appear, in it fill in your username and password.
Press "Log In."
Done!
As you can see it is really incredibly easy. If you still have some questions and want to learn more, then refer to our article that is all about how to login to Bet9ja profile.
How to Deposit Funds
Funds deposit on the platform is also quite simple. Just do the following and you will be done in no time:
Launch the Bet9ja page and ensure you are signed into your profile.
Locate and press on the "Deposit" tab.
Select your desired form of payment.
Enter the deposit amount.
Verify the transaction.
Done!
How to Bet
The process of wagering itself is also fairly uncomplicated. Here is the quick rundown of it:
Start up the Bet9ja site and ensure you're logged in.
Pick a sport and then a game on which you wish to bet.
Specify the betting options and the odds.
Decide how much you want to bet.
Check everything again.
Done!
What Should You Do in Case of a Ban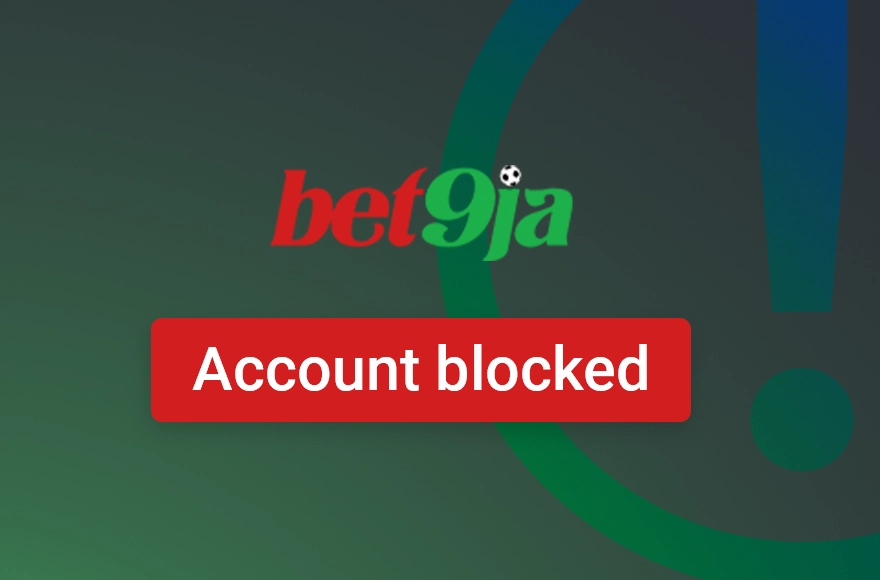 According to the T&C of the platform, Bet9ja has every right to block your profile if the said conditions are violated. Most common reasons for this are:
Creating more than a single profile
Lying about your age
Obtaining the profile that does not belong to you
Sometimes, however, accidents happen and if you think that your profile has been blocked unjustly, you should contact the customer support service and put forward an application.
Customer Support Service
In the case of any issue or unresolved situation, you should get in touch with the customer care specialists, who will make sure to help you. You may contact them through email, Twitter, or a phone call. Please keep in mind that responses are not always immediate and may take up to 48 hours to arrive.
In Conclusion
As you can see now, signing up with Bet9ja is super easy. It only takes a couple of minutes but the benefits it provides far outweigh this petty amount of time. If you are a punter in Nigeria and still somehow have not tried it for yourself, now is the high time to change that.
FAQ
How long does the sign up take?
Only a couple of minutes of your time, really.
How do I create a profile?
Well, for that data you may simply refer to the dedicated section of our article.
How much does it cost to open a profile?
It is absolutely free.
How do I open an old Bet9ja profile?
Sadly, there are no ways of doing so.
How do I join the platform as a partner?
You may join the affiliate program on the webpage.
How much do platform partners earn in a month?
It varies greatly.
Simply follow our advice above.